Controller Drift Fix Installation Request
I am taking requests to install a flex PCB that aims to fix analog controllers that are commonly found in gaming controllers such as Xbox 360 and newer, Playstation 4 and newer, and the Switch Pro controller.
Over time and usage, the potentiometers (pots) wear out and lose their zero value. This can be seen if you plug a controller in to a computer and visit Gamepad Tester. You may have to touch a button or move a joystick on the controller for the controller to show up. If you are experiencing joystick drift, you should see something like the image below without touching either of the joysticks.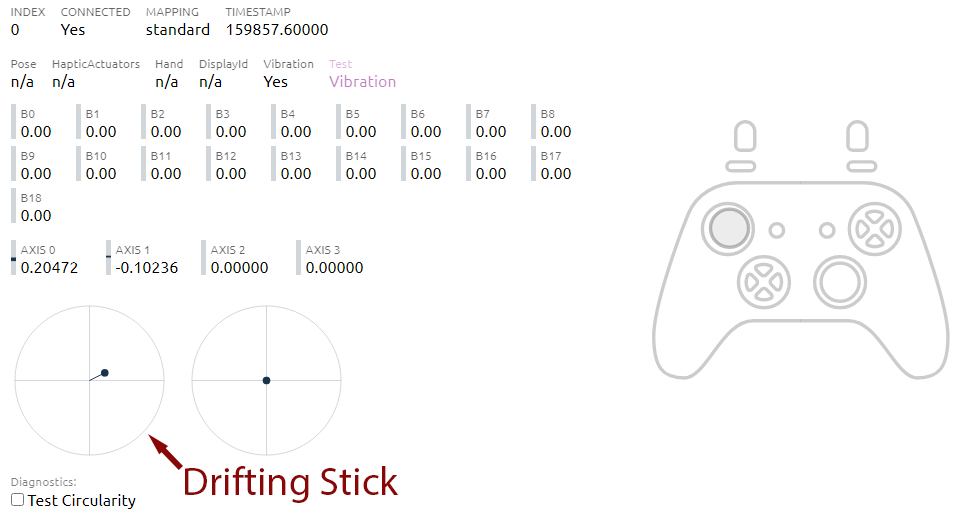 To find out how this flex PCB works or to find out how to install your own, please visit my blog post.
If you would like me to install the flex PCB for you, please fill out the form below.
Once you submit the form below, I will send you an email with a shipping address to send the controller(s). Please use a service that provides a tracking number and send the tracking number to me at your earliest convenience.
When I receive the parcel, I test to make sure each controller is fit for the flex PCB to be installed and not need any other work. If I believe any other work is necessary, I will contact you via email and see what you would like to do.
If I do believe that the flex PCB will help or eliminate controller drift, I will then take apart the controller, apply the fix, clean out the joystick, put the controller back together, and then test the controller again.
If you would like other work done with the controller, such as but not limited to replacing the joystick caps, please let me know and I will try to accommodate your request.
The prices listed below may be different than what is listed on Helder's website. This is because Helder does charge tax and the prices below include that tax.